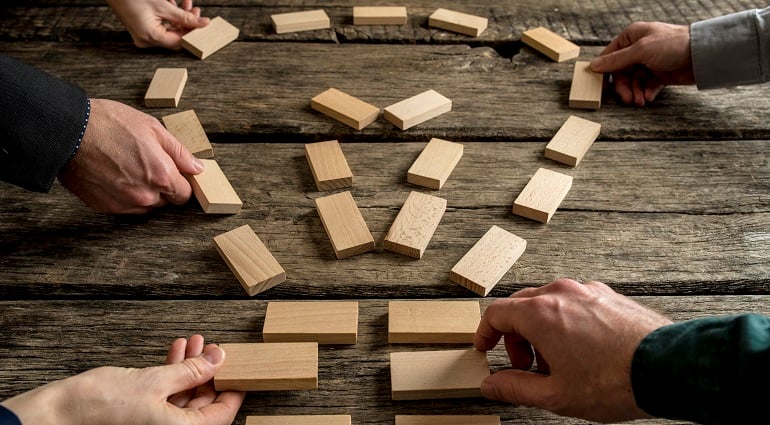 Design Thinking is a popular method for developing solutions to problems and finding new ideas. However, the approach can also be helpful in the identification of use cases, for example when you intend to introduce AI in your company. But how does the method work, and how does it help you to identify use cases?
Design Thinking is intended to address the increasing complexity of today's technologies in our global world and modern business environment. The problems we are facing tend to get more and more complicated and demanding. With Design Thinking, however, the priority is on us humans and our requirements. Failing and making mistakes must be permitted during the entire process: Only in the presence of a positive no-blame culture will all team members permit themselves innovative and creative thinking.
Design Thinking requires constant feedback between the team and the target group, and finally results in creative ideas and solutions – or in use cases. After all, use cases are hugely important when it comes to developing new products, solving problems, or introducing artificial intelligence to the company. Still, finding suitable use cases is not an easy task. Design Thinking may help you to master it.
Success factors of Design Thinking
There are three elements which make Design Thinking successful: multi-disciplinary teams, a variable space, and the Design Thinking process. Forming a heterogeneous team is particularly important for multi-disciplinary teams. The perfect group size is about five to six people, all from different technical backgrounds and functions – this makes sure every perspective will be taken into account. The team is supported by an external facilitator. Ideally, the team meets for Design Thinking in a variable space that has sufficient room for whiteboards, presentation areas and materials for designing prototype solutions.
The Design Thinking process
The Design Thinking process is a clearly structured procedure which has no actual end. The process is described below by way of a concrete use case.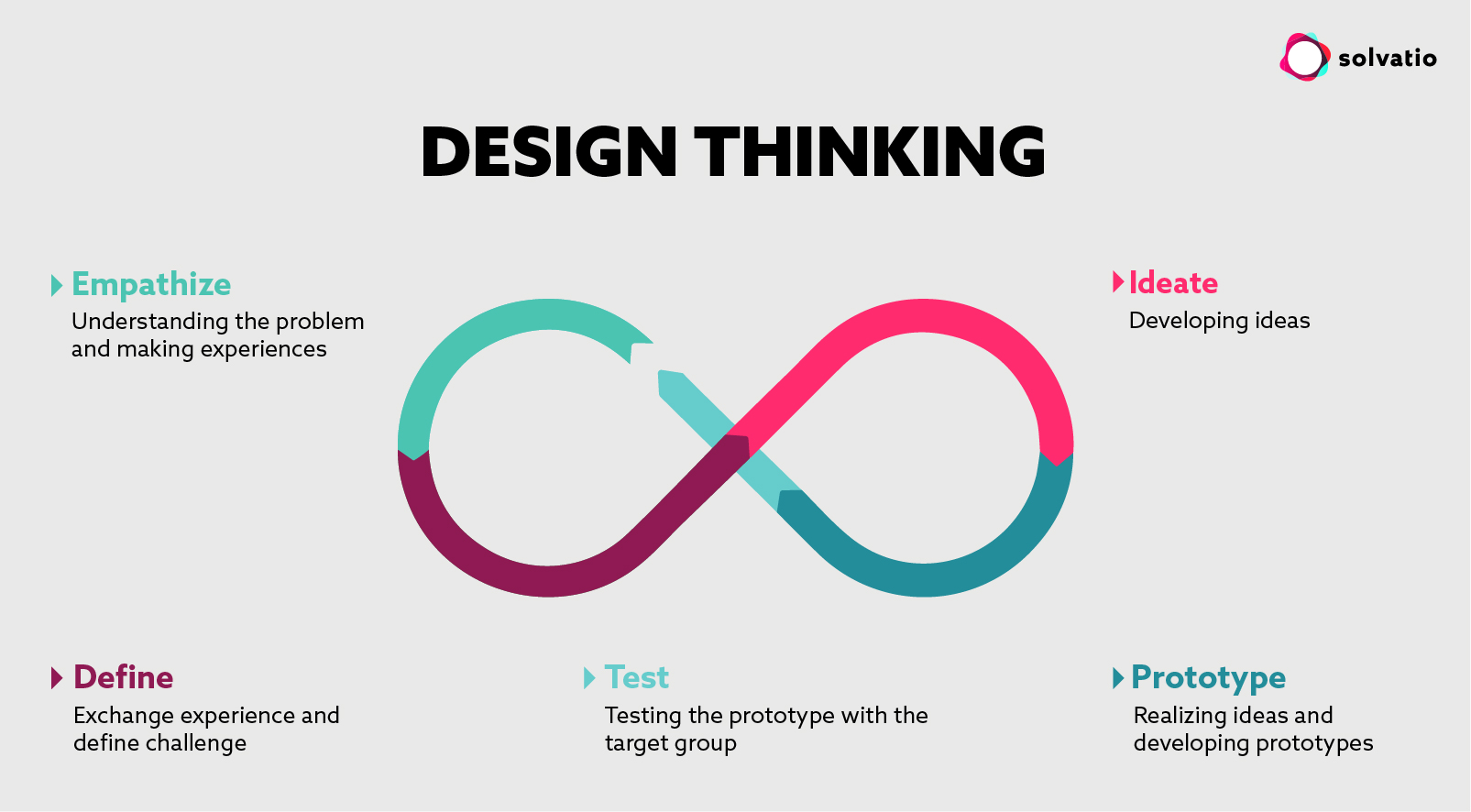 1. Empathize
The first step is about getting an insight into the problem environment, creating mutual understanding, and putting oneself in the position of the target group to understand their requirements. The most important skill here is empathy.
The support agents of a telecommunications company complain that the search function of their case management software does not work when they are looking for similar cases. The Design Thinking team try out the software themselves and interview the support agents to identify their needs and requirements. This Design Thinking process aims at fast and successful solving of customer issues.
2. Defining challenges
The team members exchange views on the experiences they made in the first step, combine them in an overall picture, and jointly define a central challenge.
Each team member reports how he or she experienced the situation. It becomes clear that there are huge differences right from the start, for example in how the agents operate the search function: Some click on it, some use the Enter key, others wait for a dropdown menu or enter keyboard shortcuts. The members of the Design Thinking team ask each other questions, establishing a common level of knowledge which is the basis for the team's further work.
3. Ideate
Creativity tools such as brainstorming or mindmaps are used to find ideas. As many suggestions as possible are collected which are then structured and combined.
Brainstorming generates different solutions. Among other insights, the following results were found: manual comparison of similar cases and entry of the data on them in a system, manual entry of acronyms, or development of a self-learning AI system.
4. Prototype
Next, prototypes should be generated that make the selected ideas tangible and allow the team members to experience and communicate them. In this way, they can run through potential solutions in a structured manner instead of talking about them endlessly.
The Design Thinking team develops demo software which automatically finds synonyms and semantically related terms. During the tests which followed next, it was possible to improve problematic processes directly. This step can be repeated several times until the prototype meets the team's demands.
5. Test
In a last step, the prototypes are discussed with the target group to see whether the idea will work in practice. The Design Thinking process can be repeated any number of times until the optimum solution can be found.
The support agents receive the demo software for thorough testing. Afterwards, they meet with the Design Thinking team for feedback. In this way, gaps and issues are identified and corrected in the next loop. At the end of the process, a software is created which helps the support agents to answer customer queries faster and better.
It is perfectly possible to run through these five steps repeatedly; going back to the previous step for correction of just-detected faults is acceptable and also necessary. Using Design Thinking, new and innovative ideas are generated – for current problems as well as for searching for the perfect AI application.
User Story Mapping is another way of finding creative ideas.
In summary:
- Design Thinking helps to identify use cases for AI projects.
- A multi-disciplinary team, a variable space and the Design Thinking process are important for successful innovations, ideas and problem solving.
- Design Thinking is an iterative five-step process which is repeated several times until the optimum solution is found.