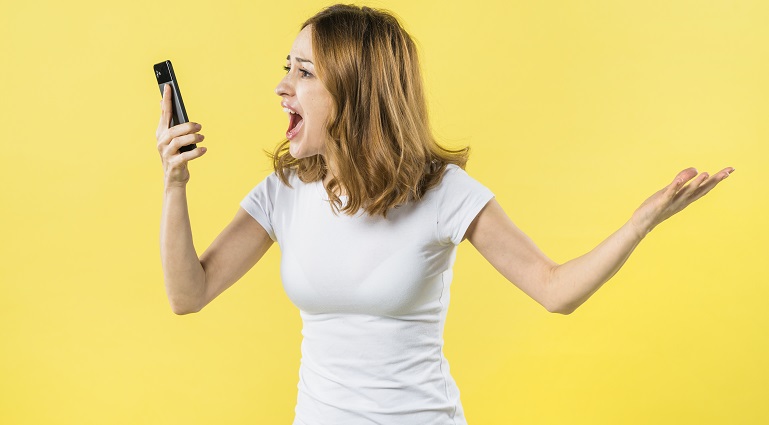 Impolite service agents, too-long waiting times, inquiries without reply: poor customer service has many faces. This is not only extremely annoying for the customer but also has far-reaching consequences for the company.
The primary concern of customer service should be to help customers fast, directly and amiably. If customers are instead constantly referred to other colleagues and channels without their problem being solved, and if their concerns are not taken seriously, consequences are inevitable. The customers lose patience with the call center employee or a service channel – and thus with the company. In the worst case, they will switch to a competitor. Germans are particularly resentful when it comes to poor customer service: 81 percent of those surveyed remember a negative customer service experience one year later. For comparison: 73 per cent of the French customers and 70 per cent of the British customers store their bad memories for this long. Two per cent of Germans even said that they remember negative experiences from 10 years ago.
This clearly shows that poor customer service not only jeopardizes the relationship between existing customers and the company, but also the acquisition of new customers. Customers will not recommend the company which gave them poor service – and this affects sales.
What customers should expect and companies should offer
Customers expect a company to be available via the contact channels they like to use. For this reason, companies should pursue a smart omni-channel approach for their customer service. The primary benefit of an omni-channel approach is that the customer support receives the issues submitted by the customers across all communication channels and end devices, and without any loss of context. Customers get their information and responses via the channel of their choice. Here, one option is self-service: Customers carry out the diagnosis and troubleshooting of their issue themselves, for example via a web platform or an app. Only if this fails, they use another channel such as the call center to talk to a service agent.
Improving customer service with new technologies
Companies need to make efforts to provide satisfactory service to their customers. New technologies such as machine learning and Next Best Action (NBA) can help. Next Best Action is a ranking list based on ML algorithms which suggests those solutions which will most probably solve the customer's issue. To provide these suggestions, NBA uses the data on previous issues and their solutions. The algorithm furthermore learns from new data, constantly adapting the ranking list. This offers a range of benefits to agents and customers: Call center agents receive the NBA fast and easily via the web interface which accelerates the solution process, saves time and eases their workload. Customers can access the NBA via self-service, for example, to get a faster and more direct solution for their problem.
These technologies show that the field of customer service has plenty of potential for optimization, and that if used wisely, they will make good service attainable.
In summary:
– German customers are particularly resentful when it comes to poor customer service. Even after ten years, two per cent of them will remember a negative experience.
– Poor customer service has consequences: The relationship to existing customers deteriorates, the acquisition of new customers becomes harder, and sales may plummet.
- Machine learning and NBA can help you to make your customer service better and more solution-oriented.